My '00 Audi S4
I owned this 2000 Santorin Blue Audi S4 from January '02 to December '09. It was my third Audi and the one I owned the longest. I did some modifications to it in its earlier years when I was still going to track events, but not so much in the later years as my priorities shifted more to other life pursuits. It was a fun car and I miss it!


Modifications:


GIAC X-chip (+57hp)
17x7.5 Team Dynamics 2000 wheels
Bridgestone Potenza S-03 Pole Position tires (225/45-17)
MTM kevlar-wrapped throttle body boot
K&N air filter
RS4 grille
StopTech stainless steel brake lines
Porterfield R4 front brake pads at the track
Valvoline SynPower brake fluid
Mobil 1 synthetic oil
My '99.5 Audi A4 1.8T
From April '99 to January '02 I owned a Volcano Black Audi A4 1.8T quattro. I put quite a few modifications on it, most notably a AWE K04 turbo upgrade kit and Borla exhaust, and it ran quite well at the QCUSA track events featured on the right side of this page (in fact, view some of the videos to see how well!). But the allure of the S4 finally got me and when I found a good used '00 S4 in January '02 I traded in the A4 (with most mods). Here are a few more pix for posterity:

My '97 Audi A4 1.8T (R.I.P.)
My first Audi A4 was this silver 1.8T quattro I bought from Paul Miller Audi in '97. Click these links for more pix: 1 / 2 / 3 / 4


But, alas, on January 14th, 1999 I totaled my car when it slid off an icy road and head-on into two telephone poles...in front of The Courier-News building! Here's the photo they put on the front page:
But believe it or not I wasn't hurt. Pretty impressive after looking at that picture, eh? Thank God for seatbelts and airbags!

Here are some more photos of my dead A4 taken after the accident: 1 / 2 / 3 / 4 / 5 / 6 / 7 / 8
Oh, I recovered the ECU with the Wetterauer chip, and it lived on in my '99.5 1.8T!
Audi Car Club of North America
When I read that I could join the Audi Car Club of North America and attend their Driver Safety Schools and drive my car on a track as fast as I wanted to, my check was in the mail! Since '98 I have attended five track events at such famous northeast road race courses as Lime Rock (CT), Watkins Glen (NY), and Summit Point (WV). These events have taught me about the capabilities & limits of my car, and how to drive the fastest line around a road course track. Plus I've gotten to meet a bunch of great people from all walks of life that just happen to all be Audi enthusiasts!


Below you'll find various pictures & video clips from ACCNA events I've attended.
Summit Point, WV, 10/7-8/02
I attended the ACCNA Frank Beddor Nationals at Summit Point in 2002. This was my second time at Summit Point but my first time with the S4. I wanted to see what the extra horsepower could do for me on the track. The answer was twofold: 1) It cut my lap time by about 6 seconds, and 2) It fried my brakes! I literally warped my stock rotors with Porterfield R4 race pads. Luckily they were replaced under warranty. It sure was fun though!

Watkins Glen, NY, 7/16-17/01
I attended my 2nd QCUSA event at Watkins Glen (5th overall) in July, 2001. This was my first track test of the K04 kit and AVS Sport tires, and I was very pleased with their performance! Here's another great photo from Photosports Imaging to the right.
Photo Gallery - Click here

Summit Point, WV, 7/31/00-8/1/00
Photo Gallery (by Photosports Imaging)
I purchased this set of professional digital photos of me on the track from Photosports Imaging:

Photo Gallery (by me) - Click here


Video Gallery
I mounted my camcorder in my own car (finally) and got some pretty good footage. Plus I got some footage of the instructor's group on the main straightaway:
Lime Rock, CT, 5/5-6/00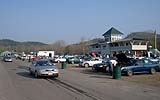 I attended the Lime Rock event for the second time. This was a good track to learn on, as I did in my first QCUSA event in '98, but once you've run on bigger & better tracks, Lime Rock begins to get boring. I enjoyed myself at this event as usual, but probably won't be going back next year.
Photo Gallery - Click here

Watkins Glen, NY, 10/4-5/99
Video Gallery
Here I'm taking a ride with my instructor Paul Masucci in his M3 (an older 4-cylinder version). This is one full lap played at double speed because, well, it looks more fun this way! Plus it cuts the video's filesize in half. Take note of the yellow (Imola?) RX-7 that blows past us towards the end!

Photo Gallery - Click here